Frogs, salamanders, and the importance of Cherokee's amphibian diversity.
To say that the Southern Appalachians are a major focal point of the amphibian world wouldn't be any sort of overstatement. Put simply, Cherokee's home is host to one of the greatest collections of frogs, salamanders, and all variety of amphibious creatures. As proof positive, no less than 19 distinct salamander species have been recorded on EBCI lands, 10 of which are species of conservation concern. Experts theorize that there are likely many more amphibious species present in and around Cherokee, simply waiting to be discovered and documented. The EBCI Natural Resources Department is currently conducting comprehensive diversity surveys of all the amphibians that make their home on Tribal lands to complete an inventory of species. EBCI lands offer management opportunities to both conserve and increase amphibian diversity through habitat protection and augmentation.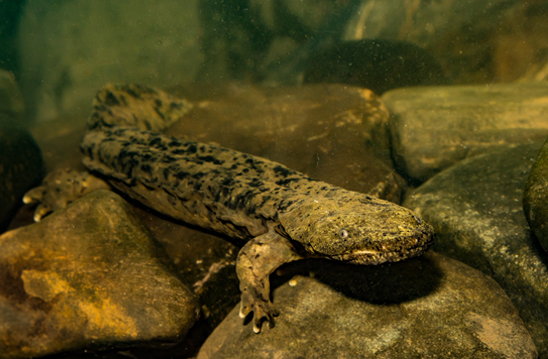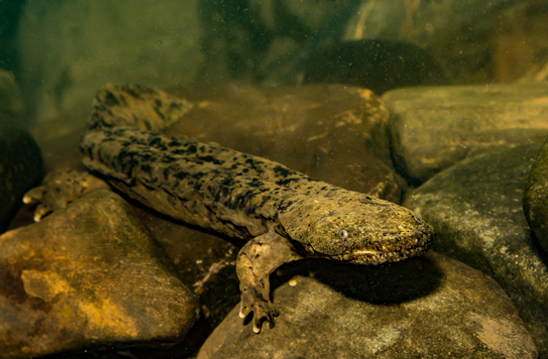 Eastern Hellbender (Cryptobranchus alleganiensis) (Waterdog)
Another species of concern, as designated by the North Carolina Wildlife Resources Commission, is the Eastern hellbender. Threats such as development, road construction, and poor land-use practices that lead to erosion and stream siltation are presently eliminating the hellbender's egg development habitat. In many areas, only larger and older adults are found, suggesting that reproduction or survival at early stages is limited. To assist this important species, the EBCI has embarked on efforts that include snorkeling, environmental DNA surveys, and improving hellbender habitat through nest boxes and stream protection measures. With a little luck and additional effort, the hellbender will thrive once more.